Chevy Big Block All Inclusive Serpentine Systems - Serpentine Conversion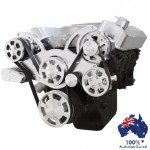 All Inclusive 8 Track Serpentine System for Chevy Big Block engines with 140 Amp alternator, GM Type II Power Steering Pump and Peanut Style AC compressor. Our 8 Rib Serpentine pulleys increase grip, reduce stretching and prevent slippage compared to traditional 6 Rib designs. Spring loaded Gates tensioner ensures proper tension during hard acceleration and deceleration while compensating for belt stretch. Places alternator on the Passenger side (Australian RH Drive) above the power steering pump.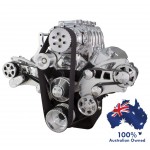 Big Block Chevy 396, 427 and 454 Supercharger Serpentine Conversion Kit A..
AU$3,848.25
Ex Tax: AU$3,498.41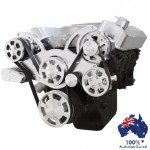 Big Block Chevy 396, 427 and 454 Serpentine Conversion Kit Air Conditioni..
AU$3,848.25
Ex Tax: AU$3,498.41
Showing 1 to 2 of 2 (1 Pages)