FORD FALCON MUSTANG WINDSOR 302 5.0L SERPENTINE PULLEY& BRACKET SET ALTERNATOR AND AIR CONDITIONING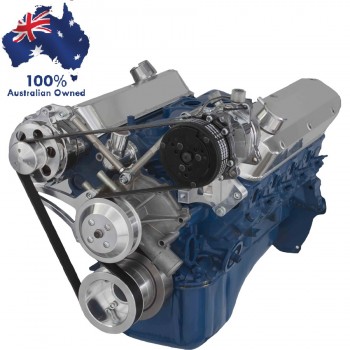 Product Code:
WWWAB30028/AAC5.0LSERPPOL
Availability:
In Stock
AU$1,329.40

Complete Ford 302 5.0L Serpentine Conversion Kit
Alternator and Air Conditioning only Applications
The 8 Track Serpentine System for Ford 302 5.0L engines with alternator. Unique 8 Rib Serpentine pulley design increases grip, reduces stretching and prevents belt slippage when compared to traditional 6 Rib designs. Uses reverse rotation water pump to help save you money. Utilizes the AC Bracket to combine to underdrive on the water pump. Will not work with AU Falcon 5.0L 302 with Crank Trigger fitted to Crankshaft Pulley.
Kit Includes:
Water Pump Pulley (1 Belt)
Crank Pulley (1 Belt)
Alternator Pulley (1 Belt)
Billet Aluminum Alternator Bracket
Billet Aluminum A/C Compressor Bracket
ALTFAN - Universal alternator fan
1 X 8 Groove Serpentine Belt (Included)
WHAT YOU SEE IN THE PICTURES IS WHAT YOU GET...
Ford Water Pump and Alternator NOT Included but are available in our Store.
Uses Reverse rotation water pump to help save you money.
Technical Specs:
Ford Small Block Pulley kit for 5.0L engines with reverse Rotation Water Pump - WWWWP8054S Satin or WWWWP8054P Polished
Requires 90 Degree Water Neck
Compatible with Electric Fuel Pump only
Fits vehicles with:
1) Factory 4 bolt fluid dampener (aftermarket dampeners will require a spacer)
2) Counter-Clockwise (Reverse) Rotation Water Pump Requires 1986-1993 Reverse Rotation Water Pump and Timing Chain Cover. Will not work with 1994-95 Water Pump.
3) Can be fitted to 1994-95 5.0L or 5.8L if fitted with 1986-1993 Reverse Rotation Water Pump and WWWTCED4251 Timing Chain Cover - shown below.
Together with WWWWP8054S Satin or WWW8054P Water Pump
Requires Standard Ford size Alternator
This is a complete front pulley Serpentine Pulley and bracket kit.
No need to shop around and try to piece together this kit. Its all here.
WHAT DO WE NEED TO KNOW?
YES WE NEED TO KNOW SOME BASIC INFORMATION AS EACH KIT IS TAILORED TO YOUR CAR AND ENGINE.
WHEN DO WE NEED TO KNOW?
WHEN ORDERING
PLEASE ALLOW 7-10 DAYS FOR DELIVERY AS EACH KIT IS INDIVIDUALLY MADE FOR YOUR CAR.
Write a review
Your Name:
Your Review:
Note: HTML is not translated!
Rating:
Bad
Good
Enter the code in the box below: