FORD FALCON MUSTANG WINDSOR 289 302 SERPENTINE PULLEY/ BRACKET CONVERSION-ALTERNATOR ONLY HIGH MOUNT - SPECIAL COBRA CONFIGURATION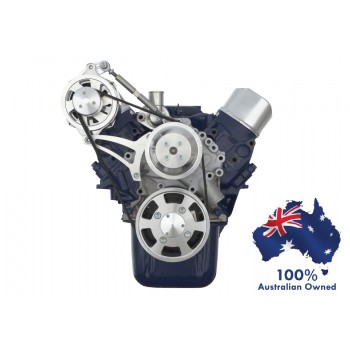 Product Code:
WWWAB30355/SERP/COBRA/AO
Availability:
In Stock
AU$1,064.35

Complete Ford 289 302 Windsor Serpentine Conversion Kit
Alternator only Applications - Cobra Kit Cars
The 8 Track Serpentine System for Ford 289 and 302 engines with alternator only. Unique 8 rib serpentine pulley design increases grip, reduces stretching, and prevents belt slippage when compared to traditional 6 rib designs.
This kit has been specifically designed with functionality and appearance in mind. The high mount alternator allows for clearing control arms and other clearance issues common in Cobra replicas, MG Midgets, and Jeep Wranglers; however, this kit will work for any Small Block Ford application where you are looking for an alternator only set up.
KIT INCLUDES:
Water Pump Pulley (1 Belt)
Crank Pulley (1 Belt)
Alternator Pulley (1 Belt)
Billet Aluminum Alternator Bracket
Universal Alternator Fan
Crank Pulley Spacer
REQUIRES:
90 degree thermostat housing
Ford alternator
289 or 302 Block
8" clearance from the front of the block to the front tip of the crankshaft pulley
This is a complete front pulley Serpentine Pulley and bracket kit.
No need to shop around and try to piece together this kit. Its all here.
WHAT DO WE NEED TO KNOW?
YES WE NEED TO KNOW SOME BASIC INFORMATION AS EACH KIT IS TAILORED TO YOUR CAR AND ENGINE.
WHEN DO WE NEED TO KNOW?
WHEN ORDERING
PLEASE ALLOW 7-10 DAYS FOR DELIVERY AS EACH KIT IS INDIVIDUALLY MADE FOR YOUR CAR.
Write a review
Your Name:
Your Review:
Note: HTML is not translated!
Rating:
Bad
Good
Enter the code in the box below: