CHEVY SBC 283 350 400 SMALL BLOCK VEE BELT - ALTERNATOR AND POWER STEERING PULLEYS AND BRACKETS - ELECTRIC WATER PUMP BLACK FINISH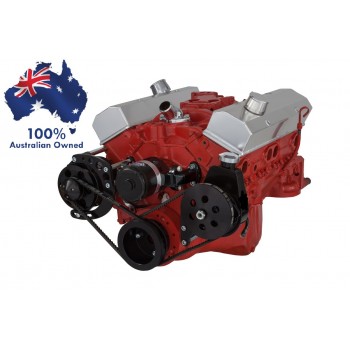 Product Code:
WWWAB20124/61VBEWPKB
Availability:
In Stock
AU$1,156.85

Chevy Small Block (SBC) 283,350,400 VEE BELT KIT - ELECTRIC WATER PUMP - ALTERNATOR AND POWER STEERING
BLACK DIPPED FINISH
The highest quality Vee belt kit for Chevy small block engines with Electric water pumps (EWP) for alternator and Power Steering applications. This kit is Bright Black Dipped Finish. Our pulleys are CNC Machined to keep your engine properly balanced and prevent thrown belts. Computer controlled machining ensures that your billet aluminum pulleys run true and your billet brackets offer perfect fit. This provides additional traction to the belt and increases power to the system. Mounts Saginaw P Series Power Steering pump low on Passenger side and puts alternator on the Drivers (RH Australian) side in a mid-mount configuration. Uses standard Chevy Electric water pump.
Kit Includes:
1 Belt Water Pump Pulley
2 Belt Crank Pulley
1 Belt Alternator Pulley
Drivers Side Alternator Bracket
Passenger Side Power Steering Bracket
1 Belt Power Steering Pulley (Keyway Type)
ALTFAN - Universal alternator fan
Alternator, Power Steering and Water Pump NOT included but available in our store
All of our Chevy Small Block Vee Belt kits are locally produced. Buy today to enjoy our competitive prices and fast shipping on all orders.
REMEMBER WHEN YOU BUY OUR PRODUCTS YOUR NOT EXPORTING YOUR NEIGHBOURS JOB
Features
CNC Machined from 6061-T6 Billet Aluminium
Bright Dipped Aluminium Finish
All Hardware Included
Write a review
Your Name:
Your Review:
Note: HTML is not translated!
Rating:
Bad
Good
Enter the code in the box below: