CHEVY SBC SMALL BLOCK & BBC BIG BLOCK V8 PRO BILLET DISTRIBUTOR READY TO RUN DISTRIBUTOR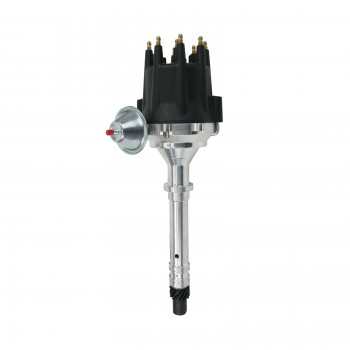 Brand:
TSP
Product Code:
WWWSUM-857701-2
Availability:
In Stock
AU$560.34

THEY JUST KEEP WALKING OUT THE DOOR
EVERYONE WANTS THEM, MECHANICS, HOME USERS etc
ORDER NOW TO AVOID DISSAPOINTMENT
PRO BILLET READY TO RUN FITS ALL CHEVY SBC 267,305,350,400 AND BBC 396 - 454 V8
TSP's Pro Series Ready to Run Distributor is perfect for a street performance ignition upgrade and eliminates the need to a CDI box. It features a CNC-machined billet aluminum body and hardened steel shaft, with a sealed ball bearing on top and a sintered steel bushing on the bottom. It also comes with a fully adjustable mechanical advance, magnetic pickup trigger, a vacuum advance (not adjustable), and a high-output circuit board module with digital tach output. The dielectric cap comes with solid brass terminals and a color-matched wire retainer.
Fits small block 262-400 and big block Mark IV 396-454
Internal module means no external ignition box required
Fully adjustable mechanical advance with additional springs and bushings included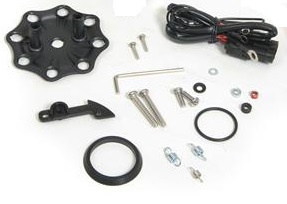 It features :
Fully CNC Machined - Polished Housing
Adjustable vacuum advance canister to improve economy while cruising
Premium caps with brass terminals, and a low-saturation Ignition module
use with a High Output Coil which Produces 50,000/60,000 volt spark through to 7,500 RPM
4340 Chromolly Steel bottom Gear, for use with cast and Steel Billet Cams
It also offers true spark alignment for instantaneous response at high RPM
Ideal replacement for tired old distributors or Space consuming HEI Distributors. The perfect replacement for out of date points distributors, Install the distributor, connect
two wires to your coil and you're ready to run.
Does not require a CDI Unit to run it.
Includes Distributor and Internal Ignition all you will need is a Coil. Need a new Coil and Ignition Leads?
Why not look in our shop and purchase one.
NOTICE THE PRECISION MACHINE WORK ON THIS UNIT.
FIREWALL CLEARANCE IS NEVER AN ISSUE WITH THESE DISTRIBUTORS AS THEY HAVE A SMALL BASE BODY AND CAP. THOSE RUNNING TUNNEL RAMS AND BLOWERS WILL ALSO BENEFIT FOR THE SAME REASONS. WE DO OFFER THE SUPER E-CORE COIL IN OUR STORE. THIS COIL IS ONE OF THE BEST COILS ON THE MARKET.
PRODUCT FEATURES
A cast aluminium body is CNC machined into a perfect housing for incredible strength, precision and looks.
Sealed ball bearings, sintered bushing, 1/2 inch hardened steel shaft
Extremely accurate magnetic pickup which never requires adjustment.
Designed with a small base and cap to suit all makes and models.
This is used in any engine from stock to high end vehicles which may have space limitations around the engine.
Fully Adjustable Mechanical Advance
An important feature on all Top Street Performance Pro Series distributors is the fully adjustable mechanical advance. This allows you to easily modify the distributor to achieve a variety of timing curves. Included with all Pro Series distributors are four bushings of varied size. The bushing determines the mechanical advance the distributor can achieve. Also included are six springs, with two at each level of tension. The springs control the rate at which the distributor reaches the advance.
High-Output Circuit Board Module
What separates a Ready to Run from a Pro Billet is the top-of-the-line internal ignition module. Built using the latest circuit board technology, this module eliminates the need for external ignition control, such as a CDI box. It also comes with a digital tachometer output. With a Pro Series Ready to Run distributor, just hook up your ignition coil, and you're good to go.
Fitment
CHEVROLET BIG BLOCK V8 GEN. II (MARK IV)
6.5 L / 396 in3
6.6 L / 402 in3
7.4 L / 454 in3
CHEVROLET SMALL BLOCK V8 GEN. I
4.3 L / 262 in3
4.3 L / 265 in3
4.4 L / 267 in3
4.6 L / 283 in3
4.9 L / 302 in3
5.0 L / 305 in3
5.0 L / 307 in3
5.4 L / 327 in3
5.7 L / 350 in3
6.6 L / 400 in3
NOTES
Will not fit tall deck blocks
Will not fit if using a governor
Don't miss out on this great product at a great price.
Write a review
Your Name:
Your Review:
Note: HTML is not translated!
Rating:
Bad
Good
Enter the code in the box below: