CHEVY FORD HOLDEN HOTROD BILLET SAGINAW POWER STEERING PUMP - PRESS FIT PULLEY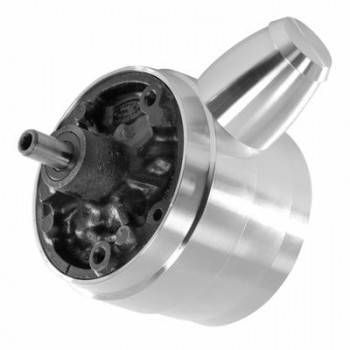 BILLET ALUMINIUM POWER STEERING PUMP - PRESS ON PULLEY
OPTIONAL BILLET PULLEY (AT EXTRA COST)
This is a BRAND NEW Billet Pump backed with full factory warranty. (No, the motor and other motor accessories are not part of this sale.) Precision CNC-machined from solid billet 6061-T6 aluminium, these Pumps fit perfectly and handles high torque and vibration easily. They replace your ugly Saginaw power steering pump canister with a phenomenally styled aluminium billet reservoir. A perfect accompaniment to our bracket kits. Available as a complete bolt in replacement Saginaw Press Fit Pulley pump. May require modification to factory brackets.
NB You are only buying the Power Steering Pump not the Power Steering Bracket, Pulley or the Alternator Bracket and Alternator.
THESE ARE ALL AVAILABLE IN OUR OTHER AUCTIONS
Fits the following applications:
Will fit the 351CLEVELAND and 302 CLEVELAND and SBF WINDSOR POWER STEERING KITS we sell and all Chev's fitted with Saginaw Pumps. May require re-valving to suit some early Ford steering racks and boxes. Saginaw Type P Power Steering pumps normally put out 1200 psi, but that is too much for a Mustang or Ford steering system and can lead to oversensitive steering. We recommend an 800 psi pressure reducing valve for all Mustang or Ford Steering aftermarket Set ups. Steering is a critical function on your vehicle and you don't want to trust the performance of this system to just anyone. These components are all made to exacting standards.
Write a review
Your Name:
Your Review:
Note: HTML is not translated!
Rating:
Bad
Good
Enter the code in the box below: