PRO BILLET - CDI DISTRIBUTOR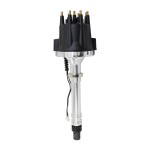 TSP's Pro Series Pro Billet Distributor is for the racer who needs
added spark and precision for their high performance power plant.
It features a high quality, fully adjustable mechanical advance
and an accurate magnetic pick-up trigger.
The CNC-machined aluminum body and hardened steel shaft,
guided by a sealed ball bearing on top
and a sintered steel bushing on the bottom,
ensure stability up to 10,000 RPM.
The distributor can be locked out and features solid brass terminals,
a slip collar, and a color-matched wire retainer.
This distributor has NO vacuum advance.
Requires the use of an ignition control system and external ignition coil.
Showing 1 to 4 of 4 (1 Pages)