PRO BILLET - READY TO RUN DISTRIBUTOR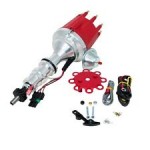 TSP's Pro Series Ready to Run Distributor is perfect for a street performance ignition upgrade.
It features a CNC-machined billet aluminum body and hardened steel shaft,
with a sealed ball bearing on top and a sintered steel bushing on the bottom.
It also comes with a fully adjustable mechanical advance, vacuum advance,
magnetic pickup trigger, and a high-output circuit board module with digital tach output.
The dielectric cap comes with solid brass terminals and wire retainer.
Showing 1 to 12 of 12 (1 Pages)