PRO ELECTRONIC - VAC ADVANCE DISTRIBUTOR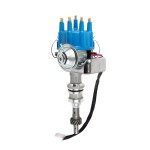 TSP's Ready to Run distributor is designed for easy installation.
With the included ignition module, all you'll need to complete your set-up is a coil.
Using simple design elements throughout, it's a great way to get an
easy-to-install ignition at a affordable price.
With an aluminum housing, steel internal construction
and a high-quality ignition module, this distributor will get the job done.
Showing 1 to 11 of 11 (1 Pages)