Chrysler Big Block 383-400-426-440 & Hemi Engines Big Block Pulley and Bracket Systems - Serpentine (Electric and Standard Rotation Water Pump)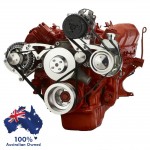 The 8 Track Serpentine Pulley Kits for Chrysler/ Mopar engines feature 8 ribbed serpentine pulleys for 30 percent more grip than traditional 6 rib pulleys. Our Serpentine conversion kits are hand polished to a mirror like finish and will really make your engine stand out from the crowd. Our modular design allows you to add features like air conditioning and power steering as your budget allows.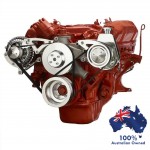 YOU ASKED FOR IT AND WE HAVE IT!!! Complete Polished Billet Aluminum Bracket's and ..
AU$1,354.50
Ex Tax: AU$1,231.36
Showing 1 to 1 of 1 (1 Pages)