CHRYSLER MOPAR DODGE SMALL BLOCK 318, 340 & 360 1970+ PULLEY SET 2+2 GROOVE WATER PUMP CRANK & ALT - 6 BOLT 70 +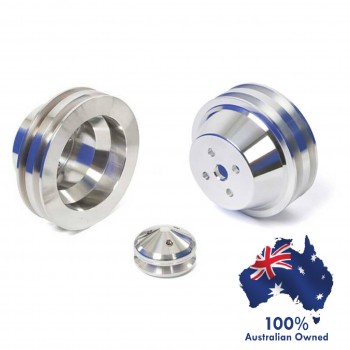 Product Code:
WWWP10272KC
Availability:
In Stock
AU$435.50

CRANKSHAFT, WATER PUMP, ALTERNATOR PULLEY PLUS HARDWARE.
Billet Aluminium Chrysler, Mopar, Dodge Block V-Belt Pulley Kit (6 Bolt)
2 Groove Crankshaft Pulley, 2 Groove Water Pump Pulley and 1 Groove Alternator Pulley
"EXTREMELY RARE" - MADE ON ORDER
Application: Vehicles with Alternatorand Power Steering using original brackets for Alternator and Power Steering
Chrysler Small Block Engines 318, 340 & 360
1970+ Dodge & Chrysler Passenger Cars and Trucks
Fits vehicles with:
1) Factory 6 bolt damper (Aftermarket dampers may require spacer)
2) Water Pump with Drivers side lower radiator hose. (Australian Car)
3) Dampener face to water pump flange face 4.5"
DON'T RISK PURCHASING SO CALLED "HIGH GRADE CAST AND MACHINED" PULLEYS THAT CAN EXPLODE AND RUIN YOUR EXPENSIVE ENGINE WHEN YOU CAN PURCHASE CERTIFIED 6061-T CNC BILLET PULLEYS FOR PRACTICALLY NO MORE.
Write a review
Your Name:
Your Review:
Note: HTML is not translated!
Rating:
Bad
Good
Enter the code in the box below: