CHEVY FORD HOT ROD SAGINAW - BORGESON TYPE 2 CHROME POWER STEERING PUMP REMOTE RESERVOIR WITH BRACKET - BLACK FINISH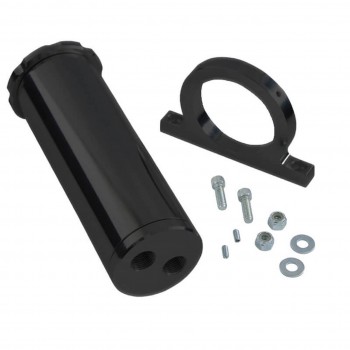 Product Code:
WWWGMB-REMOTE-PS-RES
Availability:
In Stock
AU$241.44

GM TYPE 2 (SAGINAW TC SERIES) CHROME POWER STEERING PUMP - REMOTE RESERVOIR - BLACK FINISH
THIS FITS ALMOST ALL GM AND FORD MODELS AND MOST OTHER CARS. "INDUSTRY STANDARD"
Remote Power Steering Reservoir is machined from billet aluminum and features a vented upper cap, internal baffle and dual female 3/8" NPT fittings to adapt to whatever lines you're wanting to use. Reservoirs also include a solid billet universal mounting bracket that can be used to mount the tube on core supports, firewalls, shock towers, etc.
Reservoir style: Remote
Inlet: Female 3/8" NPT
Outlet: Female 3/8" NPT
Reservoir material: Aluminum
Fittings included: None
Mounting bracket included: Yes
Length(in): 7.125
Diameter(in): 2.375
The Reservoir contains a small amount of assembly oil only and must be drained and filled with the proper amount of Oil for your application.The system must be properly flushed and cleaned before pump installation for warranty purposes.
THIS WILL FIT MOST GM AND FORD APPLICATIONS. EARLY OR LATE
Write a review
Your Name:
Your Review:
Note: HTML is not translated!
Rating:
Bad
Good
Enter the code in the box below: