FORD FAIRLANE MUSTANG FE ENGINE-352,390,427,428 SERPENTINE PULLEY&BRACKETS ALTERNATOR AND POWER STEERING CONVERSION KIT BLACK FINISH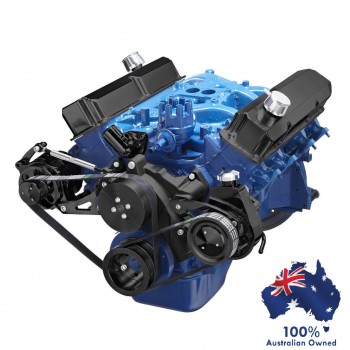 Product Code:
WWWAB19025/6SERPKITPSAGBLK
Availability:
In Stock
AU$1,961.38

Complete Ford 352,390,427,428 FE Serpentine Conversion Kit
Alternator, Power Steering Applications - BLACK FINISH
The 8 Track Serpentine System for Ford 352,390,427,428 FE engines with alternator and power steering. Unique 8 Rib Serpentine pulley design increases grip, reduces stretching and prevents belt slippage when compared to traditional 6 Rib designs. Uses Saginaw Type "P" power steering pump with Keyway (We have chrome, black or Billet in stock) or Traditional Ford Pump (the round type) and clockwise rotation water pump to help save you money. We carry both Polished and Satin finish Water pumps in stock.
Kit Includes:
Water Pump Pulley (1 Belt)
Crank Pulley (2 Belt)
Alternator Pulley (1 Belt)
Keyway Power Steering Pulley for Saginaw P Series Pump (1 Belt)
Billet Aluminum Alternator Bracket
Billet Aluminum Power Steering Bracket
ALTFAN - Universal alternator fan
2 X 8 Groove Serpentine Belts (Included)
All bolts, spacers and adjusters required
WHAT YOU SEE IN THE PICTURES IS WHAT YOU GET...
Power Steering Pump, Water Pump and Alternator NOT Included but are available in our Store.
Requires Saginaw "P Type Pump with Keyway Shaft and Bolt hole in lower right corner on back of pump or Early Round Type Ford Pump. Both available in Chrome, Black or Billet from our store. Power Steering Pulley does not suit Press on style Saginaw Pump - (XD Falcon etc).
Note 1: Requires damper with removable pulley. If you have the old style damper with integral pulley you may need a new harmonic balancer (damper).
Note 2: Maximum Alternator Depth is 4.65". Some high amp alternators are taller than this and will require a longer adjusting rod and belt so that the back of the alternator does not hit the cylinder head (see photo).OEM Alternators will work but some aftermarket alternators are too deep, we recommend a compact 3G Style alternator.
"NEED MORE INFO" CALL US NOW (03) 51580268
Write a review
Your Name:
Your Review:
Note: HTML is not translated!
Rating:
Bad
Good
Enter the code in the box below: