FORD FALCON MUSTANG 6 CYL 144 - 170 DISTRIBUTOR PRO ELECTRONIC 1/4" OIL PUMP DRIVE WOW XM XP XR EXCLUSIVE!!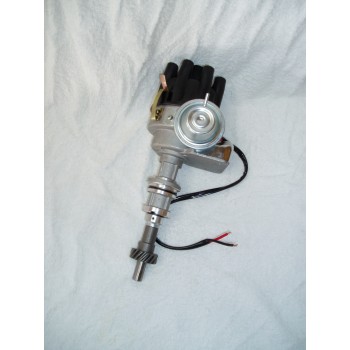 Brand:
TSP
Product Code:
WWWPR87006
Availability:
In Stock
AU$252.25

FORD INLINE 6 ENGINES
THIS IS THE NEW PRO - ELECTRONIC MODEL. FEW IF ANY OTHERS HAVE THIS MODEL AVAILABLE!!!!!
REMEMBER WE HAVE BOTH OIL PUMP DRIVE SHAFT SIZES IN STOCK 1/4" (OLDER MODELS) AND 5/16" LATER SIZE
- THIS SALE IS FOR THE 1/4" DRIVE MODEL.

Ideal replacement for tired old distributors or Space consuming HEI Distributors. The perfect replacement for out of date points distributors, Install the distributor, connect two wires to your coil and you're ready to run.
NOTE: Includes Distributor and Internal Ignition all you will need is a Coil. Need a new Coil and Ignition Leads?
Why not look in our shop and purchase one.
NOTICE THE PRECISION MACHINE WORK ON THIS UNIT.
FIREWALL CLEARANCE IS NEVER AN ISSUE WITH THESE DISTRIBUTORS AS THEY HAVE A SMALL BASE BODY AND CAP. THOSE RUNNING TUNNEL RAMS AND BLOWERS WILL ALSO BENEFIT FOR THE SAME REASONS. WE DO OFFER THE SUPER E-CORE COIL IN OUR STORE. THIS COIL IS ONE OF THE BEST COILS ON THE MARKET.
PRODUCT FEATURES
A cast aluminium body is CNC machined into a perfect housing for incredible strength, precision and looks.
Sealed ball bearings, sintered bushing, hardened steel shaft
Extremely accurate magnetic pickup which never requires adjustment.
Designed with a small base and cap to suit all makes and models.
This is used in any engine from stock to high end vehicles which may have space limitations around the engine.
THIS FITS ALL!!!!
Make: FORD INLINE 6
Cylinders: 6
Engine: 144-170 and Stroker Variants
FORD INLINE 6 CYLINDER COMPLETE DISTRIBUTOR NEW HI-PERFORMANCE FORD INLINE 6 HEI DISTRIBUTOR FOR THE 144 & 170!! Includes a Brand New FORD Inline Six 65,000 volt HEI Distributor. Distributor cap is BLUE or Black. Distributor is complete! PLUG-N-PLAY!! Distributor works on the following Ford inline 6: mid 1964 & before 144 and 170ci. This distributor will work on all the Ford Inline 6 engines that had the 1/4" hex drive shaft which according to the information from Classic Inlines would actually be pre mid 1964 on the 170ci and all 144ci engines 1958 and 1960 up.
See below:
"Distributors: All 144ci engines, and 1960-mid'64 170ci engines, had a 1/4" hex drive-shaft. The mid' 64-UP 170ci engines, as well as all 200/250ci engines had a 5/16" hex drive-shaft. Note: This is only a rule of thumb, as it may vary depending on the year and model type."
Notes: Vacuum advance type distributor. Performance Replacement Distributors feature all-new components and are the perfect choice for your Custom, Hot Rod or Street machine. Features include High Performance Electronics, Precision ground shaft and high dialectic strength cap with balanced rotor for trouble free performance. Similar to MSD Performance Dist. and other units at twice the price!! For a clean engine compartment you can't beat the simplicity of this system!!! Brand new in the box PRO Electronic racing distributor. This has 100% new parts. Designed to meet the high performance demands of racing competition. These 100% new distributors have extremely reliable components, All backed by a 12 Month Manufacturer's Warranty.(As normal Warranties do not apply when being used in or under racing conditions).
Overview
TSP's Ready to Run distributor is designed for easy installation. With the included ignition module, all you'll need to complete your set-up is a coil. Using simple design elements throughout, it's a great way to get an easy-to-install ignition at a affordable price. With an aluminium housing, steel internal construction, and a high-quality ignition module, this distributor will get the job done.
Specifications
| | |
| --- | --- |
| TRIGGER STYLE | Multi-pole Reluctor (Halls Effect) |
| ADVANCE TYPE | Mechanical and Vacuum |
| CAP STYLE | Female |
| MECHANICAL TACH DRIVE | No |
| SLIP COLLAR | No |
| COIL INCLUDED | No |
| COIL TYPE | External |
| RECOMMENDED COIL OUTPUT | 35,000+ volts |
| GEAR MATERIAL | Steel |
| HOUSING MATERIAL | Aluminium |
| IGNITION BOX REQUIRED | No |
| MARINE USE | No |
| CYLINDERS | 6 |
Fitment
FORD INLINE 6 (1960 and later)
2.4 L / 144 in3 (not offered in the United States after mid 1964)
FITMENT NOTES
Will not fit late1964 and engines that require a 5/16" hex shaft
Distributor gear is most compatible with cast iron hydraulic or solid flat tappet camshafts; consult cam manufacturer for recommended gear material
Write a review
Your Name:
Your Review:
Note: HTML is not translated!
Rating:
Bad
Good
Enter the code in the box below: